I have been up and down about writing this review. Reason being, I've had a membership with Bluebird Studios since just months after it opened. In the beginning, it was located still in Charlotte, NC but off Providence Rd. At that time, the only massage therapist was the owner, Madeline R. Burroughs. As the clientele grew, she needed more space and hired more practitioners which was totally understandable and awesome! That said, I followed her and remained a upstanding client for YEARS. Not to mention, I would always pre-schedule my services 3 months in advance with her (and I tipped).

Late 2017, on a few occasions my draft would come out on different dates than what was arranged. Luckily, that never put me in a bad situation with other transactions. Then also, the lead practitioner, Madeline would call (gave a weeks notice tho) asking could my appointment be changed. I never tripped just appreciated the courtesy of her phoning in advance. Yet, on a occasion... I was in need of the same revision... that was not honored. In the meantime, I had purchased gift cards off GroupOn for others, I'd also treat my mom to a massage from time to time. Strange enough, I referred someone to this business... that person expressed how rude Madeline got with her when she requested.. not once but twice not to have Jazzy (the dog greeter) in the space during her massage. This info was disclosed to me from this friend (whom began a membership later cancelled due to unprofessionalism from the owner). Although, I never let that change my view of the service. However, as time went on I pondered ending my membership. I inquired to the owner and agreed to end my membership in Nov/Dec which is suggested a 30 day notice. Therefore, I left on good stands... on my end. The final payment came out in Dec 2017. During that time, the owner which was my therapist was leaving for medic leave. Therefore, she and I spoke... I signed the "ending the membership clause" and I told her, I would love for her to do my final massage. Without hesitation, she disclosed that she would be back in Feb 2018... so it will not be til then. Mind you, this was Nov 2017. No problem, I understood and made a appointment via the website after it was announced that she has or will be returning. I instantly sent her a card, to the business congratulating her on her bundle of joy.

Fast forward til about 2 weeks ago. I received a call from Madeline, I immediately began to give her praise on her bundle. After that, she says to me... I am calling to let you know that I have returned as a manger for a awhile. Therefore your upcoming appointment will be with another practitioner. At that moment, it was a brief silence. Then I restated her comment JUST to make sure I understood correctly. I soon shared with her, basically I waited to schedule my final service to accommodate her leave. And if I was interested in another massage therapist (which I am sure was a great practitioner) that I would not have allowed this closing to carry on for months. She then became really unprofessional! Stating that she called me out of respect and did not have too! She mentioned how shocked she was at my response. I responded saying, you are completely entitled to you thoughts. Yet on a professional level and dealing with my funds that already were applied back in Dec 17... that is not accommodating. More importantly, her tone is what was alarming. She quickly, said... I will refund your money and then disconnected. Needless to say, I was very blown back. I even phoned back and got voicemail but was seeking the turn around date of my refund. Soon after, that info was provided via email. Yes, that refund was rec'd within that time amount stated. However, I hate that a business relationship ended so sour due to being a person of principal. Nonetheless, I hope that very best for this business. I am going to HOPE the owner was just having a bad day!



One would think, after a couple published books in... I'm use to this feeling. WRONG! In my personal and professional life, I appreciate order. That said, I knew weeks ago the day I planned to submit my manuscript for print. Yet, I still get nervous. Clearly, I know most things done allows a redo. But sometimes at a monetary value. Not to mention, timing is everything.

So, let me paint the picture for you. Prior to submitting Wednesday Just Got Better, the day Leland dialed 9-1-1 I proofread via print (and in color) and over the laptop more times that I could count. Like any other author, I felt the desire to change the content here and there. One day, my husband was like "Rayn, the more you read it... the more you will want to revise." I think that is human nature. Yet, I would still print, view, revise and REPEAT. Then finally submission came. I followed my "Before You Submit" notes, did a little meditation, hit submit and then walked the dog. That is the short painting. The true canvas was very detailed.

Being a self-published author comes with upfront cost, long nights and research. Meaning, this method of publishing you not only serve as the author or the visionary. You are the creator for marketing and develop. In my opinion, the success of your book is depending upon the bounds you've set. Will I ever opt to publish traditionally? Good question, I am not certain. The method I have followed thus far works, it's just very hands on. Then I ask myself, Would You Want It Any Other Way?

Please note: It's ideal and suggested to hire an editor for your work if you are publishing traditional or non-traditional.

After you submit, treat yourself to a No.1 Author On Board car sign by clicking on the sign below. Speak greatness over your work. Happy Submitting!



---

During CIAA, I attended a

Meet the Authors

brunch. The joys of rubbing shoulders with fellow bloggers, aspiring authors, and published authors. This was such an inspirational crowd. Each of us represented a unique stage in this world of writing. Hence, one wrote their story but has yet to turn it into a book. Another was inspired by the efforts of the matriarch in their family now just seeking the perfect editor. Then there is the author turned youtuber

which I have already subscribed to her show

! Of course, the author that has graced many college campuses with the passion to educate females on knowing their worth. The author that just wants to give back! And have you met a person that has written and published their book in 30 DAYS?! So, this is to just name a few of the talents from Saturday.

Being surrounded by like-minded individuals on this journey was amazing. The joy of bouncing experiences and ideas around the table had no choice but to get our creative juices flowing. Not to mention, the menu and cocktails at the venue, Brio Coastal Bar & Kitchen were delightful.

I must say, this is surely a different season for me. In the past, my CIAA functions never consisted of networking events. It was more of a day party here, step-show there and the greek party on Thursday night was a MUST. Not to mention, I'd start the first day of the tournament waking up at 5 AM to attend the live Steve Harvey Morning Show. I'm sharing that to say, my focus is changing... I can see it. I feel it. I've always been geared towards networking. Yet, turning my hobby into a business or better yet just becoming more passionate about this journey has me ready for this shift.

​(*)

The

Central Intercollegiate Athletic Association

(

CIAA

) is a collegiate athletic conference,

mostly consisting of

historically black colleges and universities

. CIAA institutions are affiliated at the

Division II

level of the

National Collegiate Athletic Association

(NCAA).
Powered by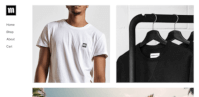 Create your own unique website with customizable templates.